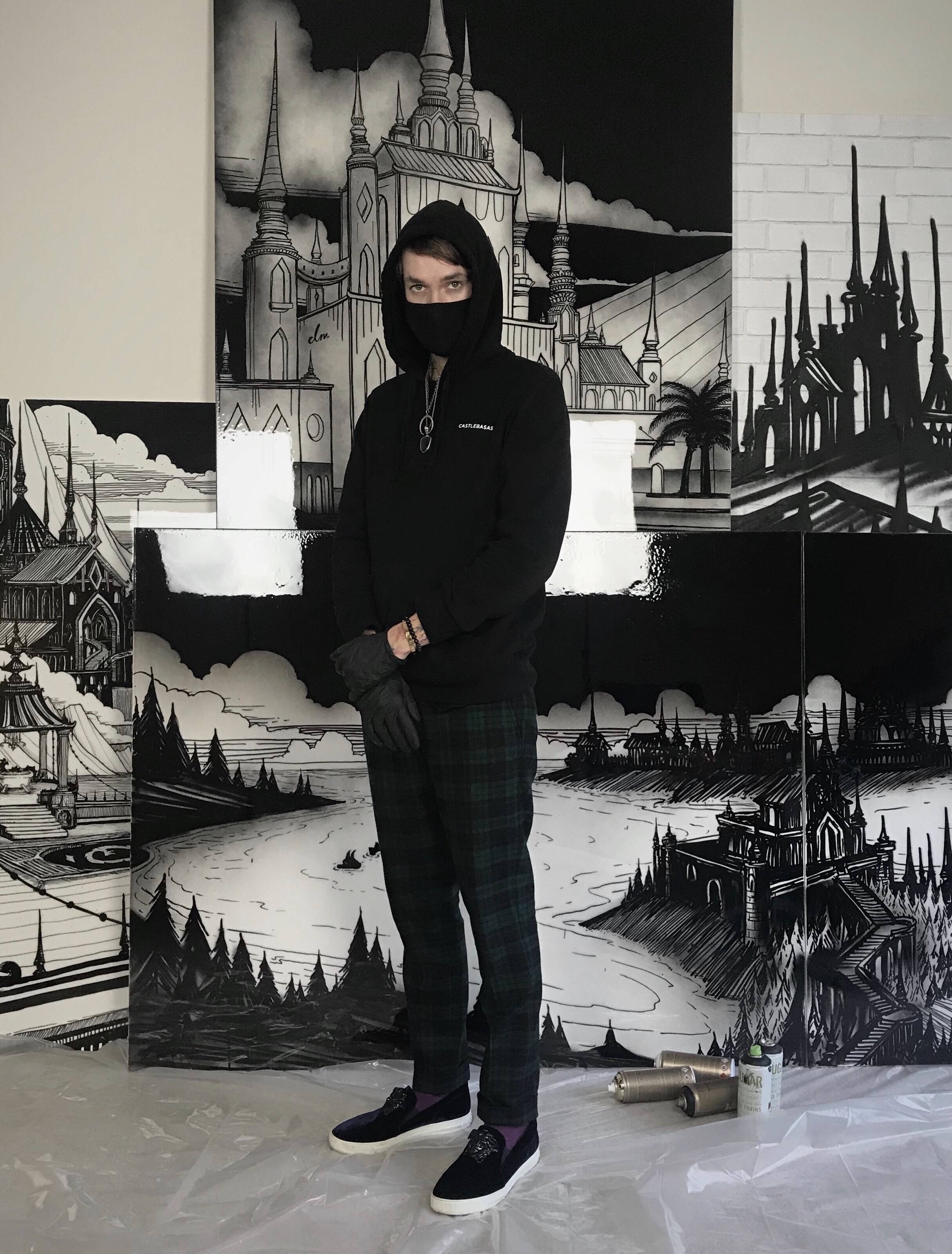 ​
Houston Prince (born Houston Parke) aka Castlebasas (American) is a Los Angeles-based street artist, known for his appropriation of the iconic symbol that is a Castle. Houston uses his work to symbolize one's own personal fortress, the vastness and grander of the empire that each and every person is capable of building in their life and within themselves. The symbol of the Castle celebrates the lavishness of human creations to represent power through art and architecture.
His artist name Castlebasas is a form of social commentary of the region of the world in which he lives, Calabasas, which holds a repertoire of a distinctly "boujee" land full of gated fortresses and hidden hills that shine of gold in the infinite sunlight. By combining the visuals of nature and castles the artist depicts this utopian playground nestled between mountains and sea.
His style is reminiscent of a 21st century take of an aesthetic and age similar to artists Aubrey Beardsley and Gustave Doré . Houston cites these artists as an inspiration to his practice and uses varied materials (including dip pen and ink, spray paint, oil paint, markers, and varnishes) to achieve an array of mixed media pieces drifting from a realm of street art to the world of fine art.
Having achieved international renown he has been commissioned for high profile projects as well as extravagant pieces for many private clients. They adorn their homes, hotels and businesses with a touch of elegant black and white, architecture and landscapes that glisten with the fine touch of a refined mirror-like resined surface. Each piece holding an energy resonating of life and luxury, abundance seems to pour from each piece like light through a window into another world.
Through his street art Houston aims to illuminate the imagination that flows with the idea and symbol that the castle represents to each passerby with clever placement of unexpected black castles peeking out of the most unusual places. His main motivation, to caste a light on positivity with imagery everyone can identify with, for individuals walking by who may not be graffiti people or art people, but may spark a fire in their very step. "Whenever I meditate, whenever I see the future, in the now, I see these structures. There is energy that is resonating in us all, you see it all around you, true authenticity in our reality being created in every field at once. Maybe I just see what I see. I want to put castles on everything and I do...the possibilities truly are infinite, there are no bounds."
His adoption of the castle is to build a 21st century ideal, depicting euphoric images resurrected to invoke the great depths of the imagination and fantasy in the human mind and heart. To invoke the love for art, the love for creating, the love for self and the love for the luxury of well...life.
Houston states that magic is nothing without intent.